Lake Cycling Shoes – The Comfort Plus Last
Written by Hutch & Robert
The foot is quite obviously a natural thing - it's part of us, who we are and how we get around this chaotic world. Whether it's running, hiking or biking, or simply everyday life, our feet are usually central to the process, and they have a particular natural shape - obviously. Unfortunately, until recent years, sports shoes have failed to fully appreciate the intricacies of the natural foot shape, and the sporting consumer has literally suffered. Let's tell you why - stay with me, you'll be surprised.
Historically, sports shoes, and especially cycling shoes, had a small and somewhat niche clientele to design for. Performance was the main driver, and it was generally a time with little technical research outside of materials. A limiting factor from the start were the use of leathers which stretch to fit, meaning that sports shoe manufacturers would generally produce a shoe with a narrow width and shape, and with a pointed toe box (easier to stretch out than reduce material). However, take your own shoes off and look at your foot shape - it's not like that at all. There's a variety of foot shapes within the general population, and as more and more people took up running, cycling and other sports, those earlier sports shoe shapes became problematic for more and more people.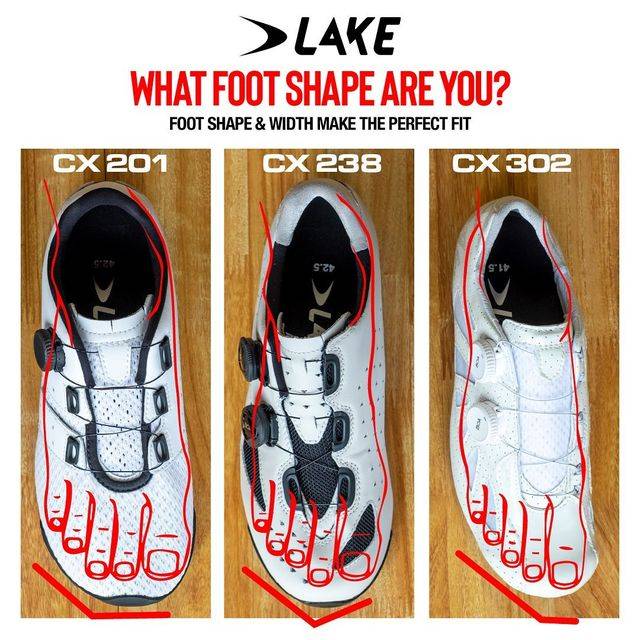 The Heart of the Problem - The Natural Foot Shape
Thankfully, here at Lake we currently have multiple last and width but more importantly we have 4 distinct shoes 'lasts shapes' - the basis of all shoe designs and the heart of all shoes; and, as each 'lasts shapes' covers around 30% of the population, it means that with 4 'lasts shapes' from our range being used, we've got about 90% of the global foot shapes covered. All we need to do is to measure your feet and we're reasonably confident that we can give you that legendary Lake Cycling Shoe comfort - it's in our DNA, after all.
Anyway, let's talk more about the natural foot shape. Within the running community, about 10 years ago brands started to look more closely at the natural foot shape and how shoes should be designed to match this. They started to design running shoes that were specifically shaped to fit perfectly around the wider natural foot. It finally gave runners that extra comfort and extra performance that they'd yearned for and, as many runners also cycled, these people began to ask the question "why can't I have a natural shaped cycling shoe too?"
Four years ago, here at Lake Cycling we decided to answer this question, with the development and introduction of our 'COMFORT PLUS LAST' for cycling shoes. We've been growing our brand over many years, and it became obvious as we entered new markets around the globe, that in many geographic areas, people's feet were different. They might have differences in: (i) the length of their toes (ii) the shape of their foot, and so it was natural - pardon the pun - for us here at Lake Cycling to design a shoe 'last' that would cover the gaps in sports shoe shape spectrum - the Lake Cycling 'COMFORT PLUS LAST. It's an important innovation for us here at Lake, because it's an important innovation for the cycling community, giving more cyclists, our famous 'comfort and performance' in perfect harmony.
The Problem with Over-tightening
Another historical aspect of cycling shoes is also very relevant here, and worthy of mention. It's about how cyclists have been incorrectly told over the years, to really tighten up their shoes and to keep them tight. Consider this then, because it's so very critical to all of you out there who are wearing synthetic cycling shoes.
When you tighten leather, it will eventually stretch and form around the foot. However, you shouldn't over-tighten it all at once, but should instead do it gradually. Conversely, synthetic material uppers don't stretch like leather, and as such, when you tighten a synthetic upper on a poorly fitted cycling shoe, with the wrong 'last' shape for your unique feet, all that you're achieving is to harm and damage your feet as you constrict them. You'll create the risk of bunions forming, give yourself pain in the back, in the legs etc etc, that can adversely affect for general lifestyle. Yes, badly fitted shoes that harm your feet will cause you problems elsewhere and make life simply uncomfortable and unhealthy for your body - now, that's simply not good at all.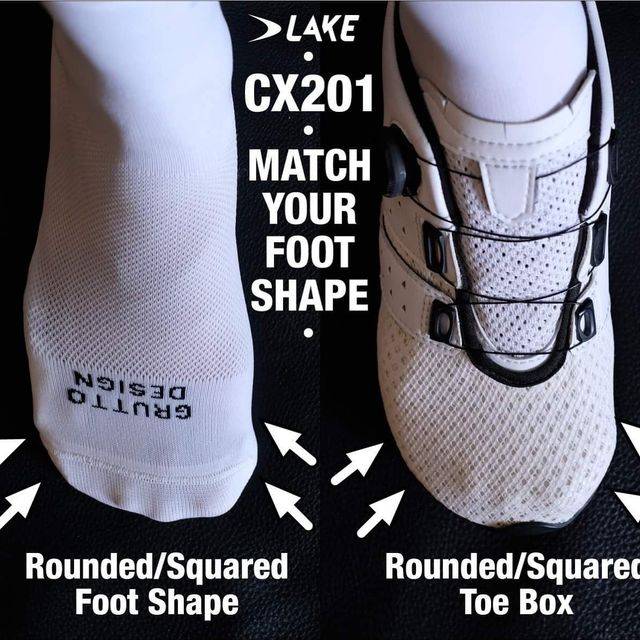 Remember the natural foot shape we mentioned earlier - and the issues with historically pointed toe sports shoe shapes, being narrow and tight. Well, that's why our new shoes that come on the Lake 'COMFORT PLUS LAST' is such a fantastic innovation for cyclists all over the globe. And, in 2023 we've got 3 new shoe designs built on the COMFORT PLUS LAST, to give you that unique Lake comfort and performance. The COMFORT PLUS Last takes away the issue of having the wrong shaped shoe, and you won't need to over-tighten the shoe. It will fit you perfectly and feel like a second skin when you put it on start turning the cranks.
The Lake CX201 was our first cycling shoe that features our COMFORT PLUS LAST. It has a wider toe box, and a unique construction that offers a light weight and extremely breathable shoe, along with a generous forefoot platform that accommodates a multitude of foot shapes. It literally wraps your cyclist feet in love, taking away pain and discomfort and maximizing your performance. We're proud to introduce two all new MTB models built on the COMFORT PLUS LAST, Lake MX201 and MX169. Both are built on our all new Enduro Rubber SPD compatible sole. This all-new designed sole features a semi-rigid Nylon shank that offers incredible power transfer, all day comfort EVA foam midsole and a grippy rubber outsole that engages well with SPD or Flat pedals.
In summary then, it's important to understand the shape and variety of the human foot, especially for athletes. It'll ensure that you're better equipped to make the right informed choices when looking at a new cycling shoe purchase. All, of our specialist Lake Cycling retail partners have the knowledge and skills to properly measure your feet and point you in the direction of the right Lake Cycling shoes for your own unique feet. Why not visit one of our partners today, and start cycling with performance and comfort in perfect harmony - we believe that it's natural to do so!
Check some models mentioned in this article
---
5 comments
---
---