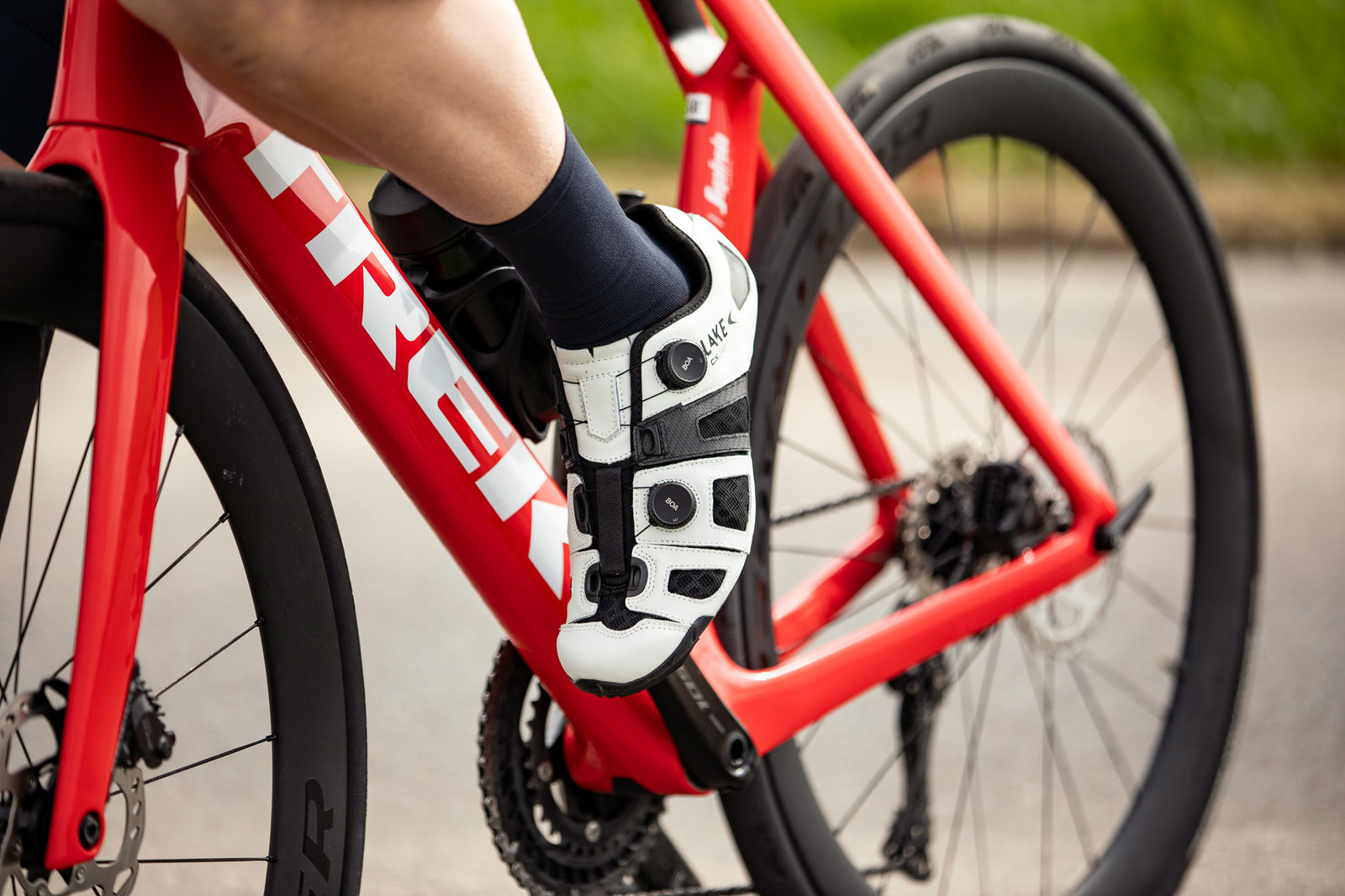 Written by Robert Thorpe
It's an age-old debate across all industries where aesthetics plays a part - form versus fit. What's the most important aspect, to (a) the consumer, and (b) the brand itself. Far too often, and in order to make an item look aesthetically pleasing to consumers, brands will forego a large degree of fit, and instead design their product - or cycling shoe - in a way that makes it look pleasing to the eye. What is not pleasing to eye, however, is the damage caused to your feet by wearing cycling shoes that are too narrow for your feet or simply don't adequately contain the volume of your foot in the right way.
Yes, that particular brand may look very slim and sleek, and the colors may be kind of 'yes please' too. However, if all that the shoe is going to achieve is to give you a few nice photographs and damaged feet that may ultimately need surgery to correct, then maybe it's time to start rebalancing the equation and make fit the most important factor.
Aesthetics Might Mean Pain
Here at Lake Cycling shoes, we've talked extensively about this before, and Hutch, our chief designer has written about the benefits of properly measured cycling shoes, along with explaining why we create our cycling shoes in particular ways. Nobody else does that for you, but we're fond of leading the way, and hopefully in the future, all cycling shoes will be made this way. For now, though, they're simply not, and when visiting a cycle retailer recently, who had a selection of high-priced brands available, it was disturbing to see so many cycle shoe styles that had simply been created to look the part, and with what seemed to be very little attention to fit.
The Natural Foot Shape
After all, if you place your foot down on a flat surface, you can quickly see the natural foot shape. We discussed this in a previous blog (click this link), and this is why here at Lake we measure your foot in length, width and volume. Then depending on the style of cycling that you're going to be doing, we can suggest which shoes from our extensive range of road cycling and off-road cycling shoes is the best one for you. Remember, you're unique and so are your feet, which is why we take so much time wrapping you in comfort.
We want 2023 to be the year of your greatest cycling adventures. That ultimately means giving you a cycling shoe that fits you best, and which through such an excellent fit, allows you to perform at your best on the bike and add some much-needed smiles to those cycling miles.
Health Concerns from Ill-Fitting Cycling Shoes

Neuropathy
Peripheral Neuropathy is a painful and usually irreversible condition with symptoms of pins and needles in the feet. You've probably felt this yourself and wonders what the pain was and how to resolve it. You may have even put it down to simply riding for too long. Scientists have studied neuropathy in shoe wearers, finding that within those adults with a history of foot lesions such as corns etc, 86% were wearing the wrong sized shoes. In basic terms, the tight-fitting shoes worsen the neuropathy by placing adverse pressure on the nerves in the feet and causing other issues to the feet. Yes, you may well look quite stylish in those sleek and slim cycling shoes, but… and it's a very important but - your foot health will suffer.
Foot Pain & Deformity
It's important that the shape of the shoe conforms to the contours of your foot. Here at Lake, we spend a lot of time measuring feet, then choosing the right shoe from a variety of shoe 'lasts' and designs, to ensure that our Lake Cycling Shoes are the right match for your foot and its unique contours. At the higher price point of our shoe of our range, models such as the CX 332 can be moulded to fit your feet around the heel, and the CX 242 has an articulated upper which operates on 2 individual BOAs, so that it literally forms a second skin around your foot and ensures that you have maximum comfort and performance - and long term foot health too.
SHOP THE MODELS
CX 332

$449.99
CX 242

$389.99
It's Time for Foot-Love
Next time you're looking at those very sleek and slender cycling shoes from brand X, and wondering how great you'll look in them, ask yourself this - how will my feet thank me? In truth, you're probably heading for pins and needles in your feet and elsewhere, and a lifetime of pain and discomfort, along with minor surgery to correct the quality-of-life issues suffered. Alternatively, you can come along to one of our specialist retail partners and give yourself some well-deserved foot love.
After all, if you're heading for some superb adventures in 2023, then ride in comfort and style with Lake, because we believe that our years of looking after cyclist's feet all over the world, have given Lake Cycling Shoes the perfect balance between form and fit. We don't just make the world's best cycling shoes - we create memories that last a lifetime. Look after your feet and your feet will look after you.
---