Lake Cycling; Find Your Fit Roadshow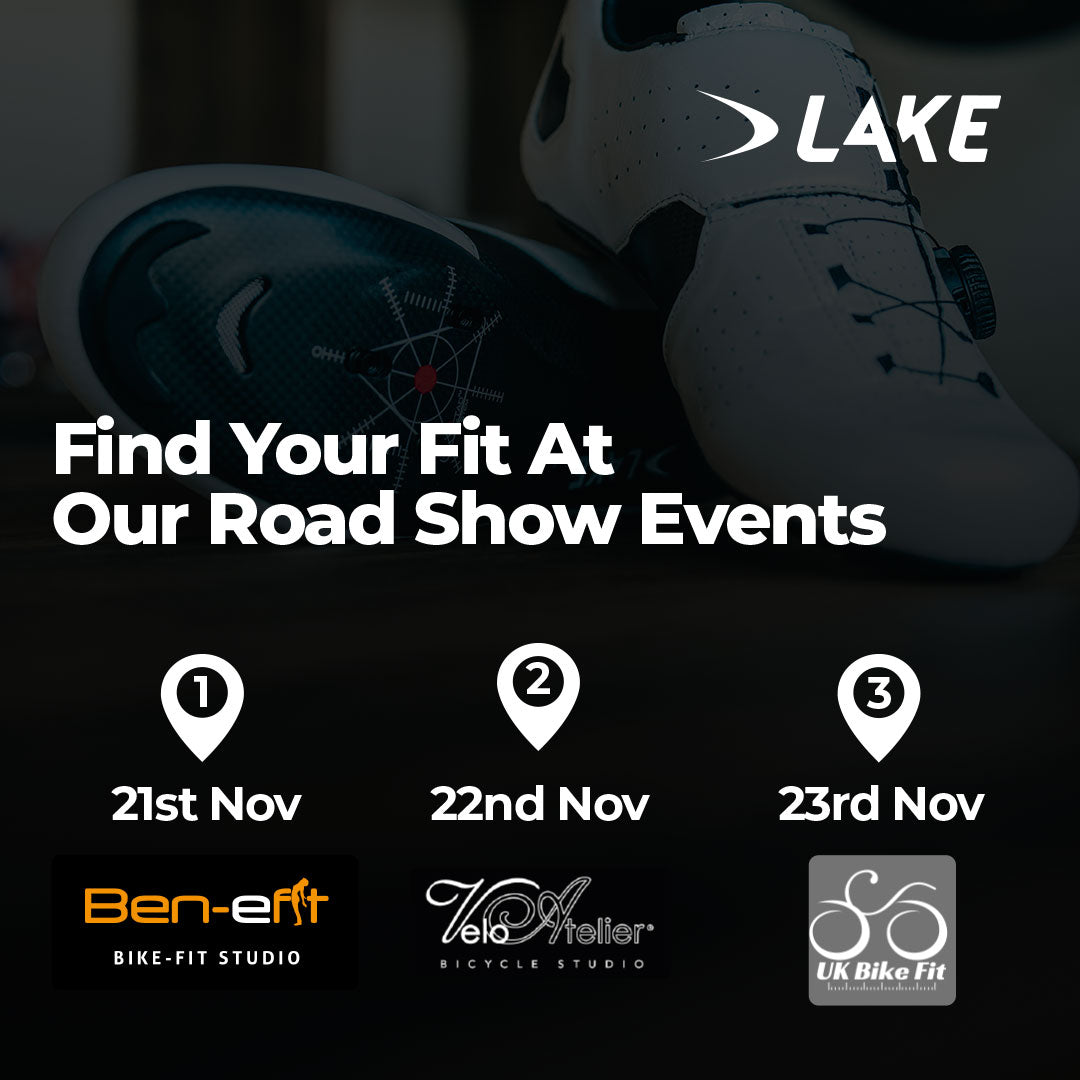 Lake Cycling U.K. Shoe Fitting Road Show
Following on from the world-renowned Rouleur Live 2023, in London this November, Richard, Lauren and the Lake team will be travelling the U.K., with a series of specialist events for our retail partners and customers across the country.
These one-of-a-kind series of road shows will bring our unique Lake shoe fitting expertise from our own experts, directly to you, the cycling consumer. We'll also be showing you the very latest range of Lake road cycling and off-road shoe models and ensuring that our U.K. based Lake Cycling shoe fitting centres have the most up-to-date training from our in-house team of experts, as they continue to look after the feet of the U.K. cycling community in that special Lake way – wrapped in comfort. Our new CX/MX 333 will be available for you, bringing you the best in cycling performance and fit, as we talk through the importance of properly fitted bikes and cycling footwear.
The Evolution of the Cycling Shoe
These events will enable our team to bring you the very latest road cycling and off-road cycling shoes from our development team and designers. We've been looking after your feet for over 40 years, and the new 3 series range of cycling shoes is the evolution of that long partnership between Lake and the global cycling community.
Along with our new winter cycling boot for commuters, these events are an opportunity to try out Lake and to see why we're regarded as the most comfortable, high-performance cycling shoes in the world.
If you want to get the most from your cycling experience from head to toe, then join us and our partners at the Lake U.K. Road Shows this autumn. From midday onwards, you'll be able to take cycle shows and fitting with us and our partners.
Key dates & venues
21st November with Ben Wright at Ben E Fit in Orpington, for our London roadshow. https://www.ben-efit.com/
22nd November with Lee Prescott at Velo Atelier in Warwick for our Midlands, Southwest and South Wales Road show.
23rd November with U.K. Bike Fit, Derby where the Geobimized team will be present.
The public will be able to attend these road shows from midday onwards and we'd love to see you there, and to hear about your own cycling shoe issues and to share the very latest Lake Cycling shoe models with you. On the final of the 3 roadshows, on the 23rd of November, we'll be there all day, including morning sessions, to share our expertise with you, and to help you to get the most from your cycling.
Joining us at U.K. Bike Fit, Derby  on the 23rd of November at U.K. Bike Fit will be experts from www.Gebiomized.de/en  showing you the latest in bike-fitting technology, as we continue to strive to offer our Lake cycling community, the very best ride possible.  Their unique dynamic bike fitting concept is now used in more than 25 countries throughout the world and is the perfect complement to a Lake cycle shoe fitting session.
In every bike fitting, gebioMized strives for the best possible unity of rider and bike. Central in this regard is the individually perfect balance of performance, comfort and aerodynamics. And, of course, when comfort comes into the equation, then your own unique feet become ultra-important too.
Let's maximise your next adventure and ride into your cycling future in comfort – with Lake, the world's best fitting cycle shoes. We're excited about the new range of cycling shoes here at Lake, so head into 2024 with us - wrapped in the world's finest cycling shoes, by Lake.
---