Lake MXZ & CXZ 176 Winter Shoe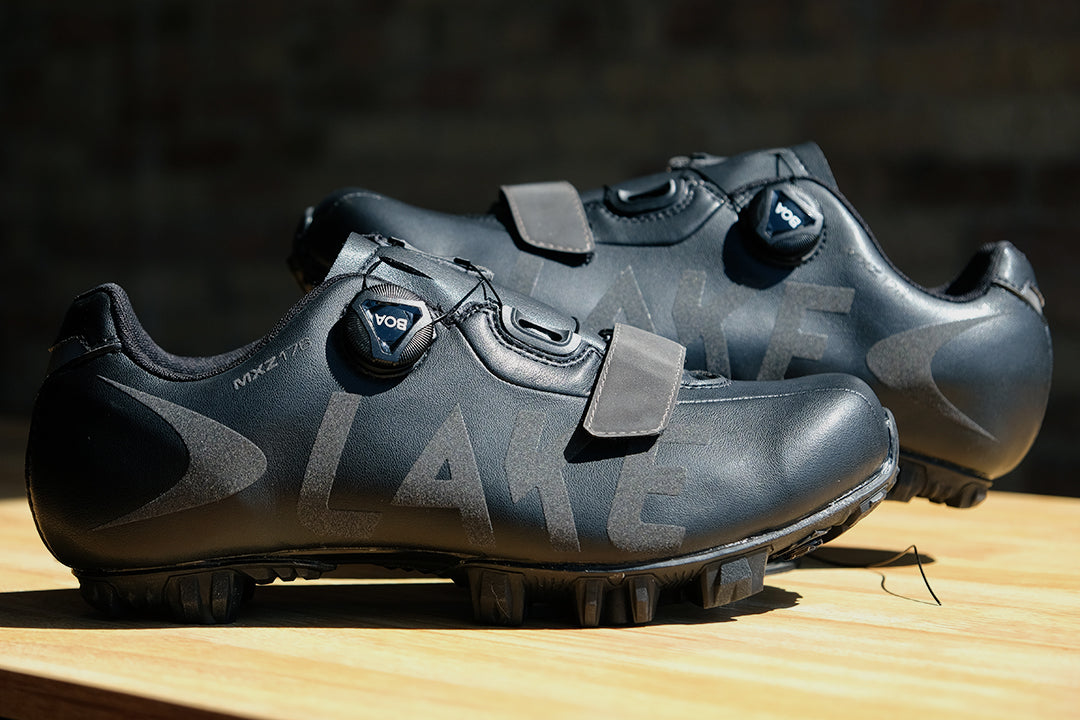 Cold Weather Footwear for Racers
There are many cyclists out there who, despite the cooler weather in autumn and winter, still want to wear a cycling shoe, rather than a boot. However, they do want that extra protection, durability and ruggedness when riding. Thankfully, we've designed our CXZ and MXZ 176 to fit this role, and to look after your feet in those colder months of autumn and winter. The simple fact is, that you can still have warm feet when cycling in winter, without wearing a boot. You just need to have Lake on your side.
The Lake MXZ and CXZ 176 are specifically designed to draw together our wealth of knowledge and experience, to bring you the best possible cycling shoe for when the temperatures drop. It's a technical cycling shoe, with everything focused on your warmth, comfort and performance. Let's tell you how we achieve this, shall we.

The Tech Stuff
It has a Clarino Microfiber and a mesh upper and features our Lake form fitting, with a durable microfibre, and a comfortable and secure BOA® closure. The front 1/2 from the toe to the midfoot features a light layer of Thinsulate Insulation, to give you a comfortable and insulating barrier for increased warmth and cold wind resistance. We can't stop those cold winds blowing in autumn and winter, but we can reduce the adverse effect on your feet by insulating you from the elements.
It's a cycling shoe that is designed for those riders who still want to perform to the maximum in cooler weather, which is why we've used our Sports last, to help with the higher cadence & longer ride times which characterize road cycling in particular. We know that you need excellent foot control at all times, to avoid hot-spots & numbness. With a much closer fit than any of our off-road lasts, our Sport last cradles the foot securely to prevent any unwanted movement, creating increased efficiency and faster forward motion. This last also features a precisely fitted toe-box, high arch & mid width ball girth, all ensuring that when you're riding the autumn and winter roads and trails, your feet stay firm and comfortable.

Time for some Sole Music
Here at Lake, we pride ourselves on ensuring that our models complement each other, so that if a CXZ 176 fits you perfectly, then the accompanying MXZ model will do too. The difference lies in the sole that we use on each model, with the road cycling version having our Lake fiberglass injected nylon outsole, for increased stiffness and power transfer, whilst the off-road MXZ 176 has our Hypergrip Enduro Sole with Ice Lock anti-slip lug inserts, giving you grip on those flat pedals and on the lose terrain, with more flexibility for hike-a-bike too.
The closure system is a BOA® Fit System L6 dial with power strap in the forefoot. The L6 dial offers a precise, micro-adjustable fit, maximum impact protection and durability, and wrapping your feet like a second skin in our legendary and ultra secure Lake comfort. When you add a custom insole or our Lake cycling winter insole, then the benefits improve even more. We'll be writing about the benefits of good insoles in our next blog.
Finally, whilst we can't guarantee the weather this autumn and winter, with our latest CXZ and MXZ 176 winter cycling shoes, we can at least guarantee that you'll be ready for any adventure, when you feel the need for speed on 2-wheels – because Lake have you covered!
CXZ 176

$199.99
MXZ 176

$199.99
---