Meet the Team – Larisa Chinces, Lake Ambassador
Written by Larisa Chinces
Images by Cristian Popoi (FDK Photography)
Riding the roads with my Lake CX 177 cycling shoes
Here at Lake, we work with cyclists and athletes all over the world, using their knowledge and experience to bring you the best cycling shoes in the world. Our ambassador, Larisa Chinces, is a Masters graduate in sports education, a former international speed skater, and multiple national champion, racing at junior level, before taking up cycling and racing on both road and trail.
Living in the mountainous region of Transylvania, in Romania, Larisa has easy access to steep and challenging roads. Her bike and her kit, all has to perform and to be comfortable. Let's find out what Larisa thinks of the new Lake Cycling CX 177 road cycling shoes.
Larisa Chinces – Riding in the Mountains
As an athlete, I love being active, and I love the mountains. When the temperatures drop lower and the wet and rainy weather will be most likely, it won't be possible to cycle outside for a while. The snow will come and for safety and for the cold, we'll have time retreat and to cycle indoors or ski 🙂 - not so bad I guess😉. For now though, I'm trying to ride as much as I can, and to use my Red Chilli bike as often as time allows. It's colder already though, and sometimes the roads are damp and slippery, bringing dangers. Sometimes it's nice and sometimes the rain catches me on the route. Kit is important, and not just tyres. I need to feel comfortable and confident, and concentrate on the road.
Confidence is the most important thing, when riding in these conditions, and I'm very content with the Pirelli Pzero tyres. I'm able to keep my speed as in the damp, as in the dry conditions, and it's important, because I didn't want to get cold, and so I stay riding hard to stay warm. Bike, tyres, clothing and shoes- they all add up to a good ride, if you choose well.
At heart I'm a lover of the hills and the wild countryside. I love cycling through the mountains and the lower meadows in the valley, especially around Sibiu, which has beautiful countryside at this time of the year. I really love the landscape transition from a season to another, in this case from summer to autumn and into winter. Not only the trees that change their colours etc, but also the vibe overall; the air, the sounds, the tasty smell from the ripened fruits and vegetables.
The route which I really like to ride, begins from historic Sibiu, then it heads towards Poplaca on the Calea Poplacii, continuing to Gura Riului, through a very beautiful open road with cultivated fields and hills and mountains in the background. The views of farmland and villages in the rolling valleys are amazing. From Gura Riului go to Orlat – Sibiel – Saliste and then back to Sibiu via E81 international European road. Overall, it's a 60 km approximate route with beautiful scenery and some challenging decent climbs, which I'm sure that anyone who is passionate about cycling will enjoy this route as I do.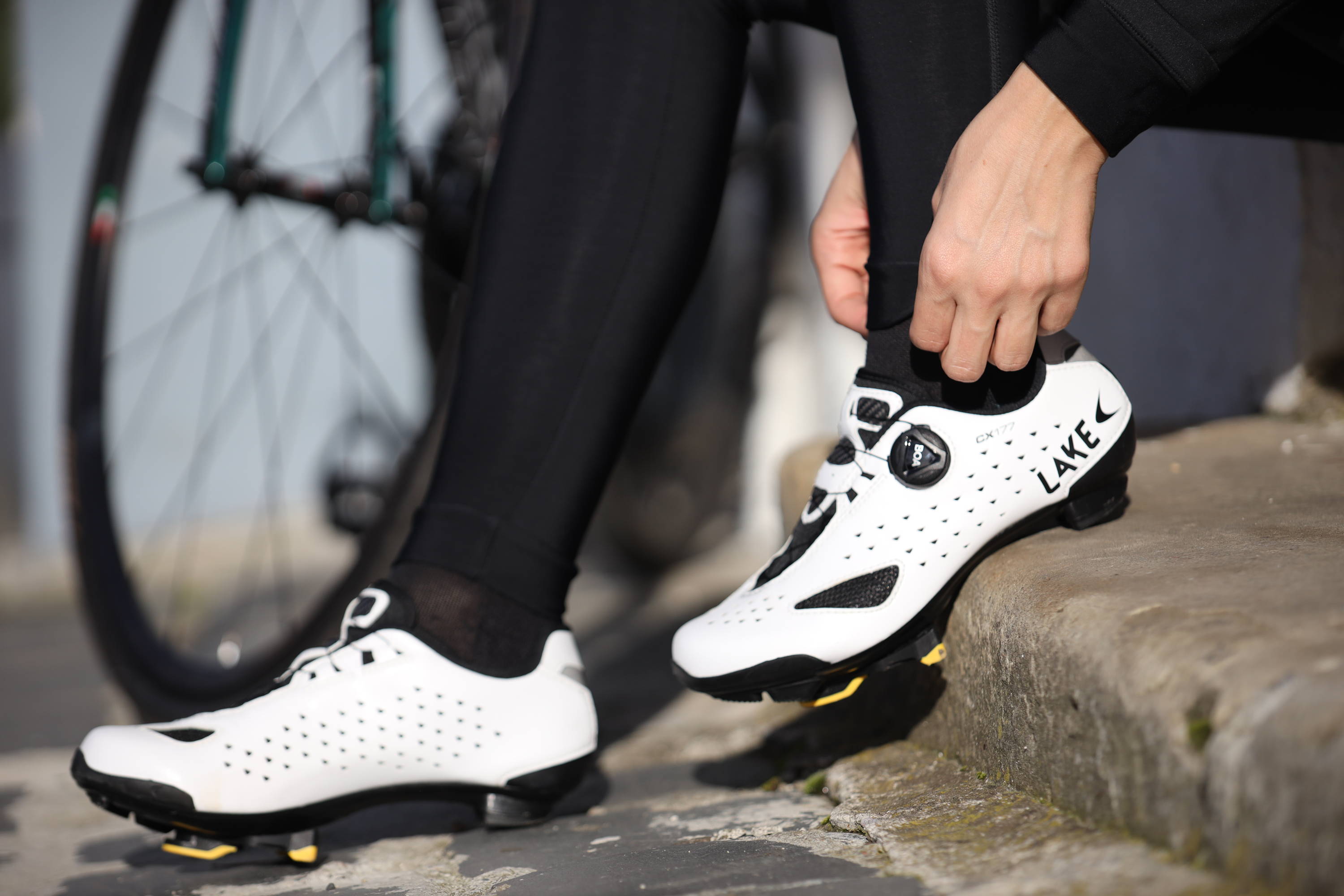 Comfort, Performance & Style in Equal Measures
Wearing my new CX 177 cycling shoes by Lake, my ride is a great way to test these too, and to get used to them. They're stylishly beautiful, with a simple design of white with black small details and the Lake logo on them. The Lake CX 177 are a really comfortable cycling shoe for women, due to its high-quality fabrics, the wider shape and fit, and the use of BOA technology to help in wrapping my feet. The CX177 features form fitting and durable microfiber and mesh upper, with a comfortable and secure BOA® closure, which utilizes Carbitex tongue panels for reduced friction lace adjustment. For me, it means that it's an ultra-comfortable cycling shoe, without reducing performance. They're also super light and classy, and stylish with all my clothing, and hey-that's important too, as I'm a woman ;) !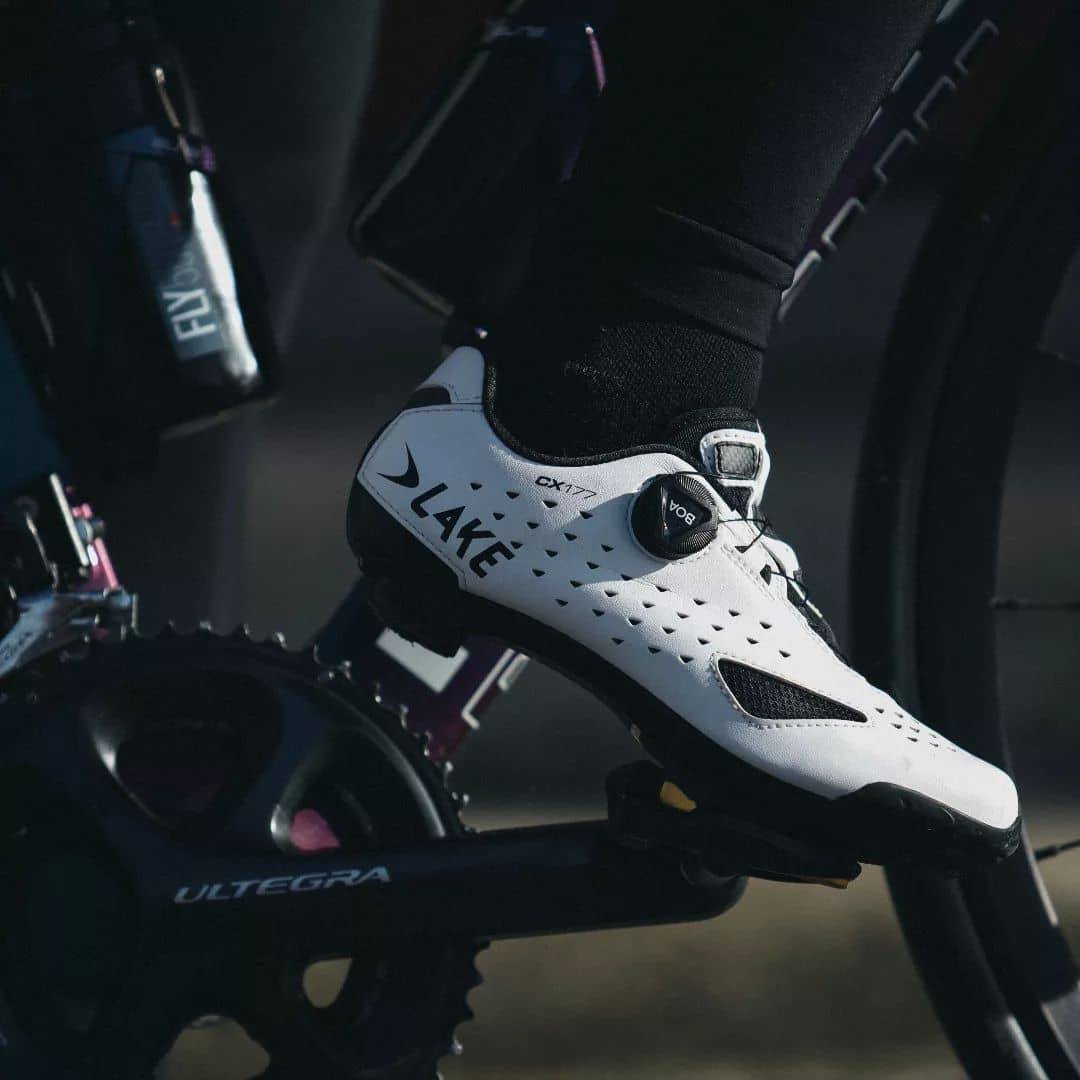 Technology in Design to Aid Performance
I've taken them on some long rides already, and I'm very pleased with how they feel and look. The CX 177 is a super stable and firm shoe on the pedal too, with the fiberglass injected nylon sole. Lake's Nylon sole is world famous for its uncompromising comfort and performance. No other injection nylon sole offers the same level of stiffness or comfort. It means that I can power up the hills and keep my feet well placed as I negotiate the more technical roads.
Best of all, they match with my helmet colour and as I say, also with my diverse cycling outfits😊 . As a woman cyclist and as an athlete, there's a balance to be found between comfort, performance and style. My Lake Cycling CX 177 road shoes gives me all of this, leaving me to simply concentrate on my ride, as I leave the hills and begin to turn home towards historic Sibiu. Cycling is important to me, and having the right kit is critical – which is why I love riding in Lake Cycling shoes.
---