Lake Custom Design Cycling Shoes
Reflect yourself – with Lake Cycling Shoes
Most people will think that having a pair of uniquely designed, custom cycling shoes is simply a dream and beyond them – but it's not. Here at Lake, we believe that anything is possible. After all, if you're wearing the very best cycling shoes available, why not go that extra mile and make them truly yours. We understand that many riders these days want to look their best when out on the bike. It's not just the top pros that want bikes and kit that matches and looks sensational – and with our custom shoe design service, it's not just the top pro teams that can have custom cycling shoes – you can too. Here at Lake, we believe that anything is possible, including giving you the cycling shoes that match exactly who you are – and match your kit, your bike, or anything else you'd like us to reproduce. Your shoes will literally be your own sporting work of art.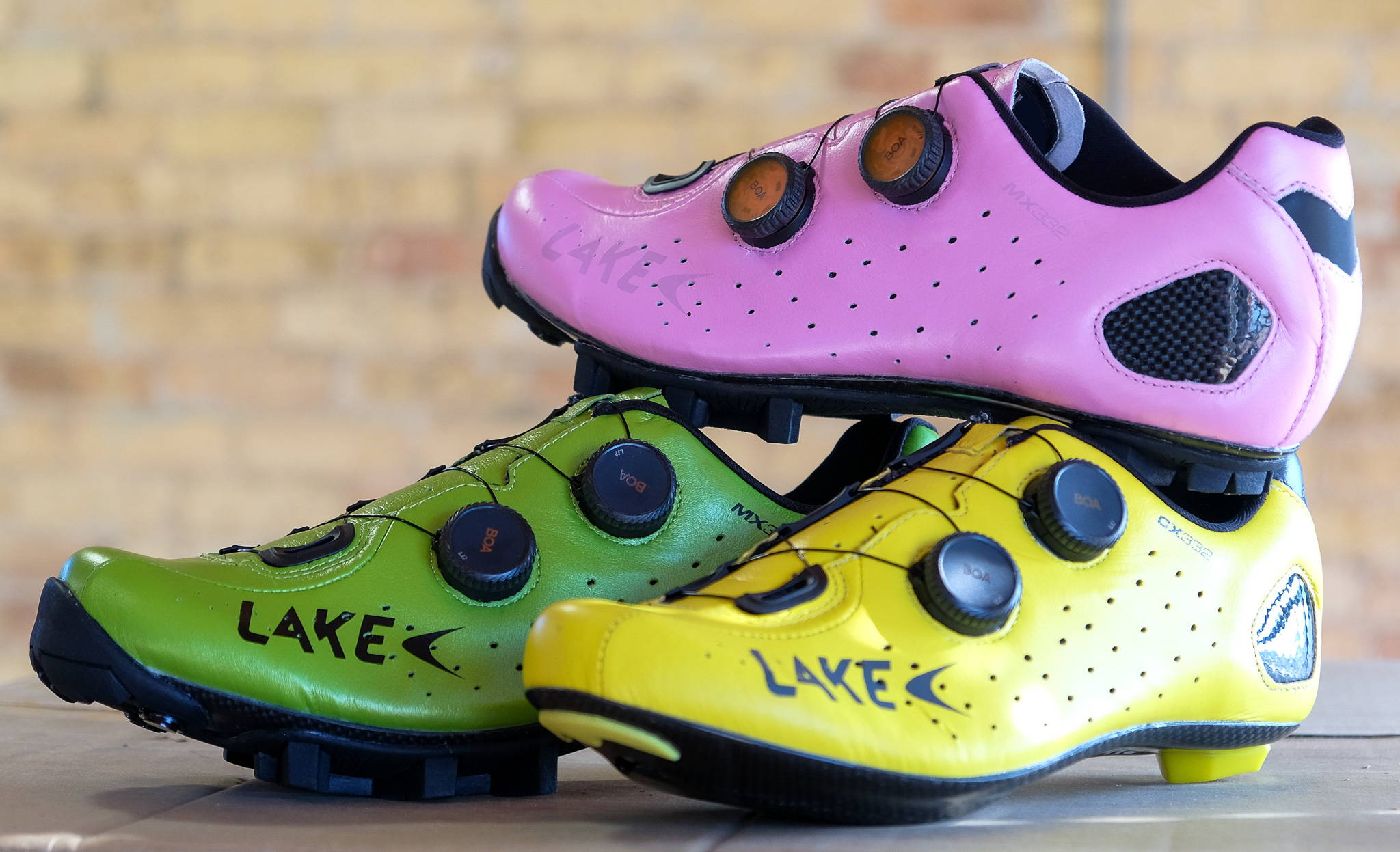 Make Your Shoes a Part of You
When you've spent a great deal of your hard-earned money on a dream road bike or custom build mountain or gravel bike, it's obvious that you love your cycling and that it's a part of who you are. You probably also wear the best cycling kit available – maybe also personalised and custom cycle clothing. You might be in a club and race with your friends at every opportunity. Yes, cycling can easily become a way of life, and quite rightly, many cyclists these days want to look and feel good when out on the bike.
That's why, here at Lake we have our custom shoe service, where we will work with you to create your own unique design, and then produce the unique shoes that you've been dreaming of, making sure that you look as good as you feel and that your performance is maximised to – in the best performing cycling shoes, that you helped us to design – just leave the rest to us. We can offer a whole range of leather colours, help you to choose custom BOA colours, and also create unique designs onto the leather too. Each pair of shoes is then individually made by our team of specialists for you and you alone, and then safely delivered to you, ready to ride in 60 to 80 days.
Let's show you a few examples and tell you about a great custom shoe option from our vast range of cycling shoes, that will look fantastic when customised. The Lake CX403 road cycling shoe is a high-performance cycling shoe, with lightweight materials and a stylish design. Add your own artwork to this and it becomes something to really stand out on the road.
Our Lake CX 403 road cycling shoes and the CX/MX 332 model of shoe, for both road cycling and mountain biking and gravel are both ideal cycling shoes for customising your own design onto. Working with our team here at Lake Cycling, we'll make sure that you look fantastic. You can see in the image below, the amazing CX 403 shoes that we recently made, with the rider's name on the leather and some personally chosen coloured stripes.
And, here's another pair of CX 403 road cycling shoes that we made specially for Wolfi's Bike Shop in Dubai. The shoes have a great colour splash effect that's modern and stylish, and it shows just what's possible with our custom cycling shoe design service here at Lake – nothing is beyond us. All that we require is for you to give us an idea and we can do the rest. Imagine it, your own custom build road bike, with its own unique frame paint, matching cycling clothing, finished off with a pair of Lake custom designed cycling shoes, for you, your team or your company or organisation.
Why not click the link below and take a look at the custom shoe gallery here at Lake. And when you're ready, visit the Lake Custom Shoe website and start the process with us.
We know that you're a stand-out person already, because you already wear our Lake cycling shoes. Now you can stand out even more and show everyone who you are – from head to toe, with Lake wrapping your feet in cycling footwear perfection – and art and design.
Check out some models mentioned in this article
---