Lake CX/MX 332 Cycling Shoe – Made for Racers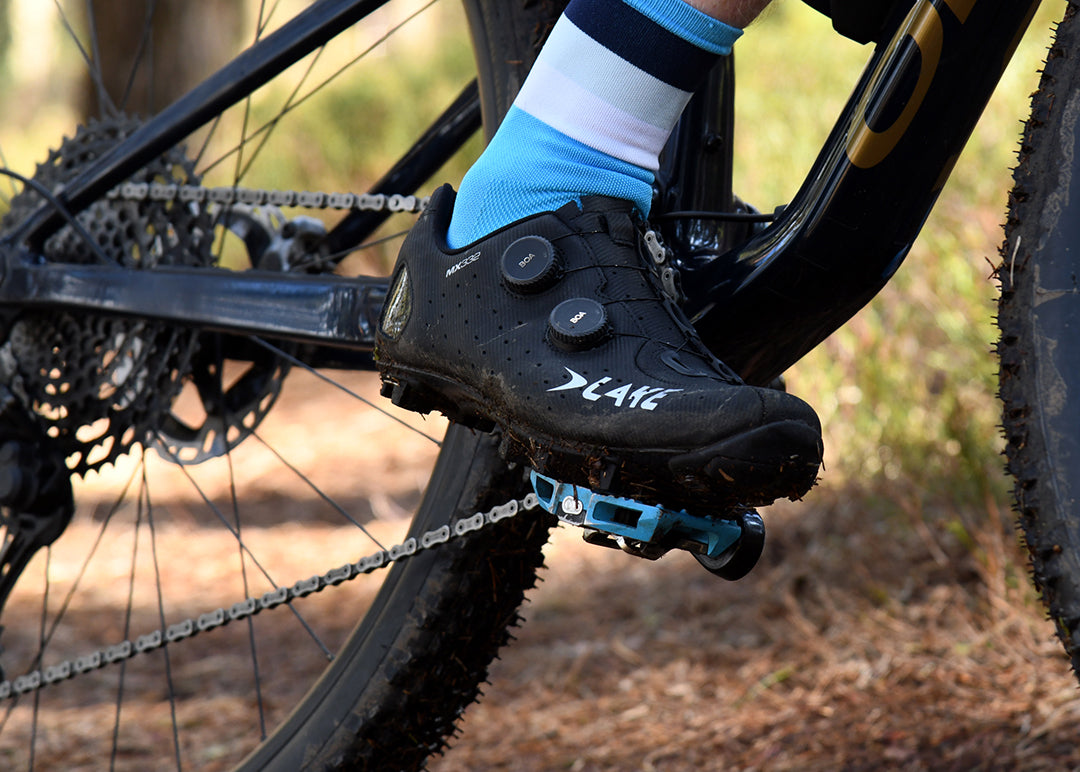 written by Robert Thorpe
Having been riding hard on both road and mountain bike recently, it's critical that I have good shoes. Yes, I know; I work for the best cycling shoe brand in the world – I truly do. However, I still need to pause and ask myself "which shoe suits me and my riding requirements right now." At the end of the day, we're all cyclists too here at Lake, which is why we design and make the very best shoes in the world – because we're always happy to wear them ourselves. Now, I've got a few races coming up this summer, albeit at veterans' class, so I asked our new U.K. Sales Director, Richard what shoe he'd recommend, and the response: "definitely the 332, as it's a shoe I use myself"
A Shoe We're Proud to Use Ourselves
Based on this recommendation, and conversations with our chief designer, Hutch, a good friend and person I hold in high regard, I've been out riding my awesome Orbea Oiz full suspension race ready bike, with XTR groupset... oooooh – yes, I know, lucky guy – and using a pair of our Lake MX 332 with HELCOR leather upper and the carbon heel, which can be moulded to give a perfect fit. I generally know my foot size, as it's been measured by our experts here at Lake, and so I simply needed to heat the shoe when it arrived and fit it to my feet, and I was good to go. The CX & MX 332 come dual side mounted Push/Pull BOA IP1 lacing systems, working independently, meaning that the leather upper is pulled in perfectly, to create a second skin feeling around my foot, whilst the moulded heel, with the Carbitex element built in, forms itself around the heel of my foot, nestling me in true foot love and ensuring that there's no loss of power, due to my foot literally being caressed on every pedal stroke. The upper of the MX 332 is sewn in an asymmetric pattern, to help to reduce pressure points on the foot. At the toe end and helping with those nocks and scuffs that off-road adventurers frequently suffer, we've placed a high toe casing to reinforce things and protect those all-important toes from a trail bashing– after all, we're Lake, and we love your feet!
The upper of the shoe looks and feels so well made, which indeed it is. While other leathermakers produce mainly grain leather, HELCOR, our choice of partner, exploits first-class European sourced split leather.

What exactly is split leather?
Bovine skin naturally is 5 to 10 mm strong, which is why the top grain of the rawhide is separated from the rest. During this splitting operation, top grain and drop split (reticular layer) are separated. The lower layers of the skin have a minor inner cohesion, as density and mingling of the protein fibres decrease towards the flesh side. These layers are rough from both sides and are called split leather. Split leather is a "faceless" leather.
By means of a unique finishing technology HELCOR is able to create a face for the leather, a new surface. The breathable, water vapour- and air permeable polyurethane layer is thinner than 0,15 mm and may thoroughly be called "real leather". Best of all, it's supremely tough and has some awesome properties that make it ideal as a material for the best cycling shoes in the world – Lake Cycling shoes.
We all Need a Little Sole Music...
Add to this that Hutch, our designer, chose to fit out the shoe with an SPD compatible, 100% Carbon Fiber Sole with real rubber tread and provisions for replaceable toe spikes. Even my racing snake, mid-20s son was impressed with the toe spike opportunity, as he races fixed gear track-le-cross, a truly crazy sport!
One the key things about a good mountain bike and gravel shoe is the strength of the sole, the stiffness and power transfer, and the ability to walk and have good grip. Thankfully, the MX 332 ticks every box in these areas, and is a well thought ought design finished in a superbly functioning trail shoe. I ride regularly on a choice of trails in the following areas: the Yorkshire Dales National Park, the North Yorks Moors National Park, the Lake District National Park, and elsewhere in Europe. What relevance is this; well, it means that the kit has to be good and has to perform well – which these MX 332 off-road cycling shoes have been doing. Best of all, even when a section of hike-a-bike has been needed, the grip provided by the rubber sole and patterning of the tread, has been spot on.
Yes, the sole is stiff, but this is a racers shoe remember, and we've designed it for a balance between comfort and performance. The stiff carbon sole means that you get maximum power transfer, with the heel gripping your foot and holding you firmly in place, ensuring maximum power transfer, resulting in speed – yes, you're a race with a 'need for speed', and this Lake MX 332 delivers. The addition of well thought out rubber tread means that the shoe simply digs into the ground and holds you firm on all terrain. Add to this, the great grip on flat pedals and you've got a shoe that looks awesome, feels like it's part of you, and which gives you maximum power transfer – the ideal combination for an off-road shoe which will give you many years of great adventures – even on a crazy track-le-cross race or for a more conventional cyclocross race.
MX 332

$449.99
The 'Need for Speed' Shoe
The MX 332 is a lightweight and versatile race shoe that is well suited for Cross Country racing, Cyclocross or Gravel biking, or as I say, that somewhat eclectic fixed gear in a field sport that junior races! Coming with our Lake 'MX Race' last, providing the basis for this shoe, and with a slightly narrower toe box and a tighter heel than the Lake 'Competition' last and less overall volume than the Sport last, it's a cycling shoe designed for a slimmer fit & most suitable for racing. In this role, we truly believe that this is the shoe for those looking for the cycling shoe holy trinity: Comfort, Performance and Style. Best of all, it's made by our dedicated team here at Lake, and we all love this shoe so much, that it's our personal recommendation – and that's the best advice you'll ever get.
---