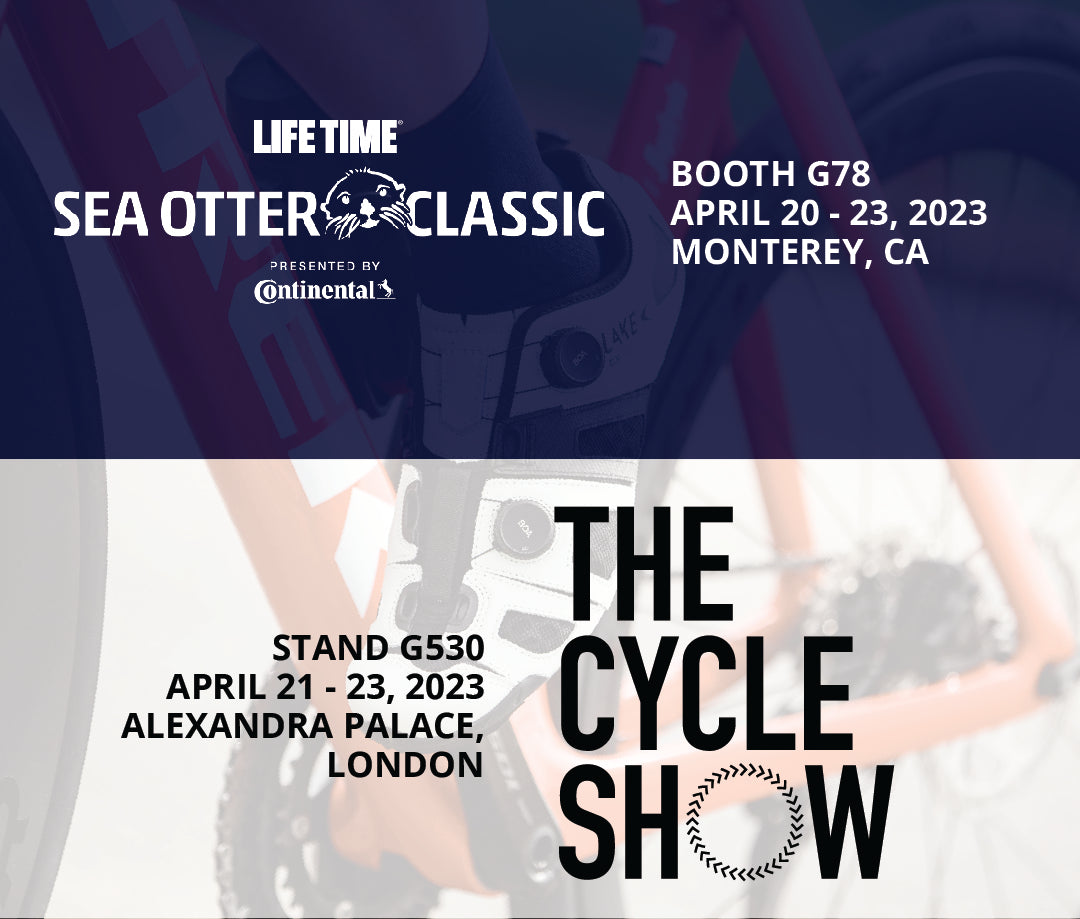 With every spring, comes excitement and adventure 
By Robert Thorpe
In a chaotic and haphazard world, we need something constant and reliable. A powerful partner to help us to explore new adventures and to renew our cycling soul. Lake Shoes bring forth new energies and new shoes each year, to wrap you comfortably in world leading cycling innovation. Thankfully too, spring is also a time for some of the biggest and best cycling shows, giving us the opportunity to share our love for shoes and adventures directly with you. This coming weekend we'll be at 2 awesome events, here in the USA and across the pond too, in the U.K., with Sea Otter Classic in California, and the Cycle Show at Alexander Palace in London.
Come California Dreaming, at the Sea Otter Classic
Sea Otter Classic, is a truly awesome cycling event, unparalleled within the cycling world, bringing the warm Californian spring sunshine along with the best bikes and accessories for everyone – whatever you ride.  
As a cyclist, Sea Otter is like a special gathering of the clans, with all manner of cycling groups attending to experience the four days of action-packed fun, cycling camaraderie and excitement. It's the largest cycling event in for enthusiasts in North America, and it's where our USA team led by Chris will be this coming weekend, to show you the very latest in Lake cycling foot love. One of the great things about Sea Otter Classic, is that it's an interactive event, with riders racing around the iconic Laguna Seca Raceway in Monterey, California, and traversing the beautiful rolling hills of Fort Ord National Park by mountain bike and gravel bike. Yes, it's the perfect place to spend a few days of cycling celebration and to visit the Lake Cycling Shoes stand and let us share our latest shoes with you, like the truly unique, new Lake CX/MX 242. 
We want you to maximise your ride to the sun this spring, with Lake Cycling shoes - wherever it sets – and here in sunny California, there's always a beautiful sunrise and sunset, so come take a look with us at Seat Otter Cassic.
Celebrate Cycling with Lake – at Ally Pally in London
With the U.K. building up towards the Coronation of King Charles III, it's definitely a good time to visit a London Palace – so how about the largest Cycle Show in the U.K. this year, at Alexandra Palace! Yes, this epic exhibition of cycling celebrates 25 years this spring, and we'll be there this coming weekend with Richard and our new U.K. team showing you what to wrap your feet in on tarmac and trail for spring and summer. 
The historic building of Ally Pally has the highest point in London, allowing you the opportunity to sit in the springtime sun and enjoy epic views over London, whilst exploring this historic site – and checking out the very latest cycling products from around the world. It's also super easy to travel to, having excellent links for train, tube or bus. The venue has its own train station fittingly called Alexandra Palace Station. A regular train service with Great Northern runs direct from Moorgate in the city, through Highbury & Islington in the north of London or from Kings Cross, changing at Finsbury Park. Wood Green is the nearest underground station on the Piccadilly Line (journey time is 20 minutes from Piccadilly Circus) - or you can cycle here of course! We've got some great ideas for commuter shoes this year! Come and take a look at the latest range of cycling shoe style and performance, at stand G530.
We'll be officially launching new shoes for spring and summer adventures on 2 wheels, with Lake Cycling MX 169 and MX 201, which you can read about here and here. 
And, of course, the stylish and technically superb new CX/MX 242 – probably the best cycling shoe in the world right now. 
CX 242

$389.99

 
Lake CX/MX 242
We looked at the previous 241 model and introduced some new elements, whilst improving other key areas, to produce one of the most comfortable cycling shoes in the world – whatever your foot shape.   
It has:   
A wider toe box

 

Releasable BOA LACE guides at the toe for all sizes

 

More support at the instep and arch for improved foot stability 

 
With these new additions, it's a shoe that takes comfort and performance to a new level – especially for those feet that need a little extra care.   
It's designed to benefit those riders with foot issues, such as bunions, deformation or an extremely narrow foot and who need a cycling shoe that will not beat up their feet.  Instead, the new Lake 242 wraps the rider in comfort, giving them the endurance to stay on the bike for longer.  
The shoe has separated panels on the full grain leather upper, another Lake Cycling innovation, which allow for fine tuning the pressure and the fit. These separated panels, and the Dual BOA Li2 Fit System allow the shoe to conform around the sensitive and painful areas of the foot, without the constraints and without the pain felt in ordinary cycle shoes.   
We also added a new Carbitex Omni Flex Carbon Fiber Stabiliser, to ensure that the foot is kept stable inside the shoe. This new addition, another change from the previous 241 means that the 242 shoe maximises power transfer to the pedal. A heat moldable heal, ensures that the shoe is literally wrapped around every part of your foot, giving the rider the perfect balance between comfort and performance. We like to think that the new Lake Cycling 242 shoe literally becomes a second skin for your hard-working feet. Best of all, there's a version to support every cycling style, whether you ride road, gravel or mountain bike, with both the new CX 242 for roadies, and the MX 242 for those who want to ride the off-road trails.   
Along with the pressure release zones on the upper, a carbon sole to lighten the shoe and to maximise power transfer and stability, the new Lake 242 cycling shoe takes your cycling comfort to a whole new level, on tarmac or on the trail - and that's important to us here at Lake.  
When cycling, energy creates smiles
Lake Cycling shoes don't follow the crowd, and neither do you. You're as unique as the new colours of spring, filled with vibrancy and energy. Thankfully, Lake Shoes have evolved to maximise that energy and to create the ultimate forward motion cycling machine – you; all wrapped in springtime style. We'd love to see you and to talk about your next cycling adventures and to have the opportunity to share our love for cycling with you at Sea Otter and the Cycle Show this springtime. Join us at Monterey, California and in London, and let's wrap your cycling feet in style and power this season, with Lake – the world's finest cycling shoes. 
---